Princess Tutu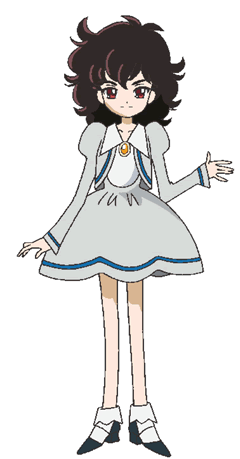 Princess Tutu has been my favorite anime of all time, ever since I first watched it in 2002. I've already cosplayed from it several times, and there's a nearly endless list of costumes from that series that I'd love to make. This one came about because I love the girl's uniforms, I was gifted 6 yards of light grey cotton as a birthday present, and I got a great deal on 2 wigs on eBay, to achieve the volume of Rue's hair.
Scroll down, or Click Here to read about how I made this costume.

VARIATION: School Uniform
COMPLETED:
DEBUTED:
WORN TO:
COST: <$
CONSTRUCTION TIME: ~
Costume Construction
The wig was ______
The jumper was made by modifying a Corset/Vest pattern. I adjusted it to put the zipper down the back. The skirt is made from an oversized circle skirt, which I gathered at the waist and sewed directly into the jumper top. To create the large bell-tutu shape of the unforms, I actually bought a white tutu on ebay, to use as a petticoat. The bolero was created by combining a couple of different patterns, and includes a fully fitted sleeve under the shorter puffy sleeve -- the upper sleeve was stuffed with tulle, to keep it fluffy. All of the blue trim is bias tape that was made by hand, using Light Royal Blue quilters cotton from JoAnn. The broach was cast from resin and backed in aluminum foil, with a frame made from craft foam and painted in layers of glue until it was fully sealed.
The shoes were a lucky thrift store find some years ago, and the socks are cheap 99 cent socks from Walmart, which I added the scalloped fold-over to using cotton and an elastic band.